Manusmade
From the latin manus meaning "hand", manusmade is literally, "made by hand". Manusmade evokes a sense of history and tradition; people have been creating & making things with their hands for thousands of years. Living by hand is about purposefully creating spaces that feel like home and creating lives that reflect our deepest essence through daily patterns and habits that bring us home to ourselves.
Before you can say "But, I'm not…", let me tell you something: You ARE creative. We are all born creative. But as we get older, and life 'gets in the way', we lose our connection to it, and can no longer tap into it as a source of renewal.
I'm here to get you into your hands so you can tap back into that source of renewal. It's through our hands that we can create our own lives, our spaces, our ways of being. To me? This is a courageous way of living: on my own terms.
Crafting your life and your home (I call it my sanctuary) by hand is a creative, loving, and authentic way of being. Not only that, but when you connect to life through your hands – making things and creating a sanctuary-like nest that is perfect for you to come home to – you reconnect to your source of well-being. You can deal with the troubles at work; you can heal from the stress, the fatigue, the grief, the infertility, the loss, the struggle (or whatever is keeping you from expressing your creative energy); and you can begin to build your confidence and your inner wisdom – you learn to know what you really want in life. You no longer put everyone else first. You begin to put you, and what matters to you, on your to-do list.
How do you get from making things around your home to a state of well-being? It's really not as hard as it looks. It's in the small actions of being creative, it's in the actual making, it's getting out of your head and into your hands, and it's in journey of the creative process.
If this sounds like coming home to you, you've come to the right place. And I'm here, right beside you, to guide you through the process. Find out how you can work with me, or start with getting free inspiration and resources delivered directly to your own sanctuary (through your inbox). When you sign up for the newsletter, you'll immediately get a 19-page workbook to help get your started in creating a sanctuary in your home. Want to find out a bit more about my own story first? Just keep reading below.
Interior decoration might seem a rather superficial place to start addressing the soul, but, after all, we have to start somewhere. I am not suggesting the design can save the world, but it is in those small, and sometimes not so small, changes in attitude to our daily domestic landscape that surprising moments of insight lie. There are clues here that can lead us to a greater understanding of ourselves as human beings. That can connect us to our hearts, to our better selves, to each other." – Ilse Crawford, designer and magazine editor
creating sanctuary from the inside out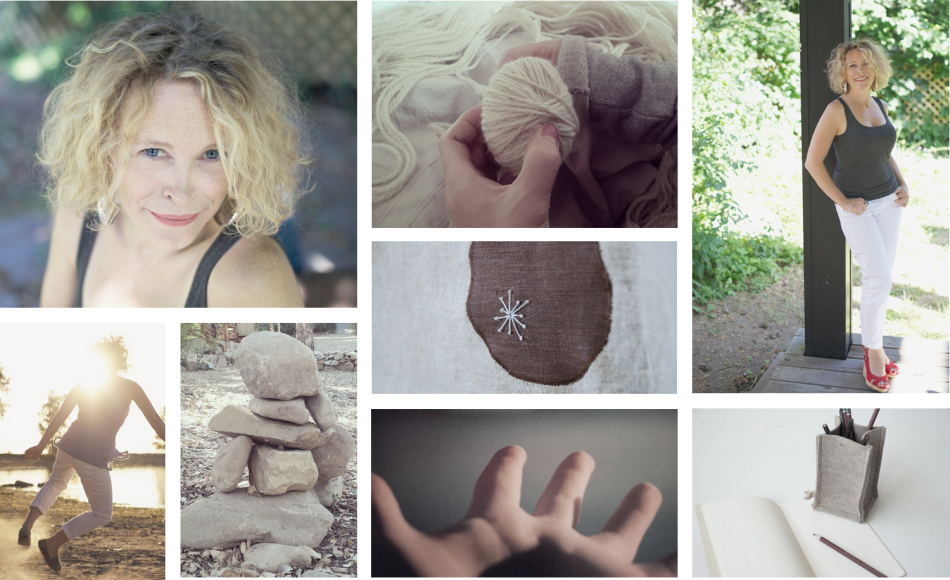 I'm Tania Wojciechowski, and I will help you create a life and home for yourself that feels like you've home to yourself. Why am I your guide on this creative and courageous journey?
Because I've been there. Let me share my story with you: it's a journey that started in my hands, moved deep into my head and returned to my hands via my heart.
Hands: At 8 years old, I learned to sew from my mother. I loved mixing and matching textiles into something different. Today I'm still addicted to the feel of nubby linen, the cozy warmth of wool, the rough and soft strength of natural felt. In fact, one of the reasons I love natural materials is that they literally reflect how I feel when I have sanctuary in my life: pure, natural, honest, undisguised, grounded, and bold.
I also love to design and create comfortable and beautiful spaces. For my entire life, I've had an innate knack of being able to make a space feel homey and welcoming, whether it's a living room, or an experience like having a dinner party.
Head: There have been times in my life, though, when I've lost my connection to my creativity – my truest self. My head took precedent over my hands, as I focused on school, training, the 'right' jobs, and following other peoples' expectations. But even while I was stuck in my head, I was instinctually linked to my innate gift of turning places into spaces that feel like home. I helped exchange students acclimatize to a new country and learn the language, I studied space and place in a Social Geography Masters program, and I helped claimants feel as comfortable as was possible during a dispute resolution process dealing with abuse of all kinds.
One of the reasons I left that last job was my identification as a Highly Sensitive Person and an empath. I'm able to perceive things that many people can't see, and I feel emotions very powerfully – my own and others'. This makes it extra important for me to take care of myself. After many years of neglecting my own self care, I burned out.
On top of all of this, I was dealing with a number of other stressors such as financial issues, grief after my father passed away, moving several times, and infertility (I spent 6 years in this phase, and decided at the age of 40 to move forward without children. Talk about feeling uncreative. Since then, I continually commit to being creative, because that is what makes me fertile as a person.)
Hence the need for sanctuary – a safe place, within my home and within myself, to heal and reconnect with my creative soul.
Heart: Home is where the heart is, as they say. And my heart took me back home to working with my hands. By getting back to my creativity – crafting, decorating, and designing – I began to sew my soul back together. Throughout the years, and through the ups and downs, there has always been that thread of understanding, holding, and creating space in my life that feels like home
This journey of mine has given me the deep understanding of how to create sanctuary for myself, and how to craft a creative and intentional life. Through this journey of reconnection, I learned to have a hand in how I lived. .
I am here to help you create this life as well. I look forward to creating space with you and leading you through the geography of your own creative expression. With compassion, joy, and a deep understanding of how important this is to you.